About TOTIX
T.O.TIX
Toronto's Official One-Stop Ticket Shop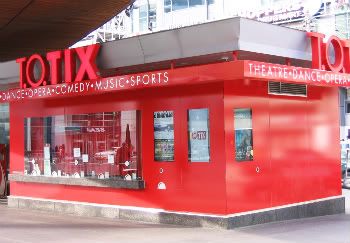 TAPA owns and operates T.O.TIX, in the heart of downtown Toronto, at Yonge-Dundas Square. T.O.TIX is Toronto's central ticketing outlet, featuring half-price and discounted tickets on the day of performance, as well as full-price and discount advance tickets, in-person and online at totix.ca. T.O.TIX ranks as the third highest Ticketmaster outlet in Toronto and in addition to selling theatre, dance and opera tickets, also sells tickets to music, comedy, sporting events and more!
T.O.TIX uses TicketWeb to manage online ticket orders.
Tickets may only be purchased online at totix.ca or in person.
Payment online may be made with the following:
VISA, Mastercard, or American Express.
T.O. TIX is also an official outlet for TicketKing , TicketMaster and Ticketpro.
T.O.TIX hours of operation are Tuesday through Saturday, 12:00 PM to 6:30 PM.

DISCOUNT TICKETS GO OFF SALE BETWEEN 5:00 PM and 5:30 PM. MATINEES ARE SOLD THE DAY BEFORE THE PERFORMANCE.
Tickets can be purchased in person or online (select shows) at totix.ca
click here to return to totix.ca